What a swell party it was
3rd August 2018
On 27th June, through the kindness of Strutt & Parker BNP Paribas, the committee of Art for Youth London kicked off the upcoming December exhibition with an annual launch party in Mayfair. The sponsor, supporters, invitation artists, angels and volunteers were treated to delicious canapés and sparkling wine as they perused the art on sale and enjoyed the garden atmosphere.
This is the second year that Rathbones has supported the charity UK Youth through its exclusive sponsorship of the Art for Youth London fundraising event. Investment Director, Rupert Heggs spoke very movingly about Rathbones interest in both art and young people.
At this year's launch, guests were lucky enough to also hear from two inspirational young people. The first was William Greenhalgh, whose story took him from fighting and causing trouble in school and the local community to a budding music career through UK Youth's Big Music Project, which provides funding and training to local youth organisations. He now helps other young people and it is fair to say this might not have happened if he hadn't worked with his youth worker from UK Youth to help him navigate a better path in life. William performed a spoken word piece that gave us an insight to his background and his journey to where he is today.
The second performance was from Solana Lord-Baptiste, a 15-year-old singer and songwriter from London who took part in UK Youth's programme the Big Music Project through her local youth organization SABA. In Solana's own words, "Taking part in TBMP was a great experience that has allowed me to showcase my music and network with other fantastic musicians. TBMP has really helped me develop my performance skills and confidence. It has created some amazing opportunities for me." Her performance was just breathtaking and far more polished than performers twice her age.
Among the many guests were representatives from UK Youth's corporate partners Aiimi and PwC who will be supporting the exhibition in December.
Grateful thanks go to Bronac McNeill for capturing the evening with these wonderful photographs.
Sam Melluish, Chairman of AFYL
Lady Griffiths, President of AFYL, and Ken Howard OBE, RA, Vice-Patron and auction donor
Annabel Elliott, Committee Member with auction piece "The Leopard" by Alice Shirley
Supporters Matthew and Jane Clark enjoying the art of Annabel Ridley
Toby Ward, Vice-Patron AFYL, and Dora Bertolutti Howard, AFYL artist
Cecily Snagge and Sarah Blackburn with artist Alice Shirley
Christopher McCarthy, Leah Reed, Rupert Heggs of Rathbones with AFYL Creative Director, Caitlin Mavroleon
Diana Brooks, founder of AFYL, and Fred Gordon with his sculpture of "Swimming Otters"
Artwork by Annabel Ridley and Marek Olszewski
Solana singing her own songs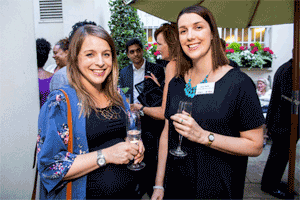 Clare McBride, AFYL Supporter, and Lindsay Marsden, UK Youth Director of Partnerships & Fundraising